MAGNIFICENT BOZBARLAND ZORKMID LOTTERY
Throughout the
Great Monster Uprising
, the Magnificent
Bozbarland
Zorkmid
Lottery, sponsered by the
Frobozz Magic
Lottery Company, was the best and only lottery in the land. Their motto was "Could it be you?"
Tickets costed a mere Zm500 (all prices reflect the zorkmid inflation). The drawings took place each
Mud Day
for a first prize of Zm50000 and a second prize of Zm10000. The winners immediately became the most respected people in the community with both songs and postage stamps issued in their name. There was a saying around the lottery administrators: "If you're not in, then someone else will steal your stuff!"
SAMPLE TICKET: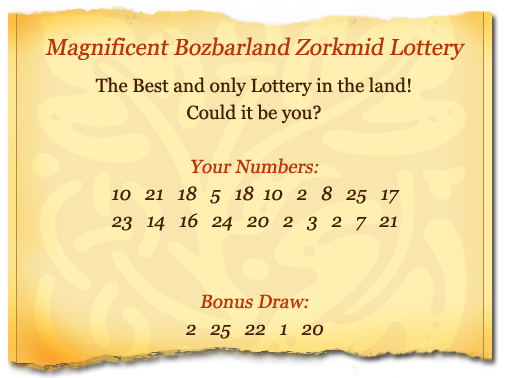 ---
SOURCE(S):

Legends of Zork